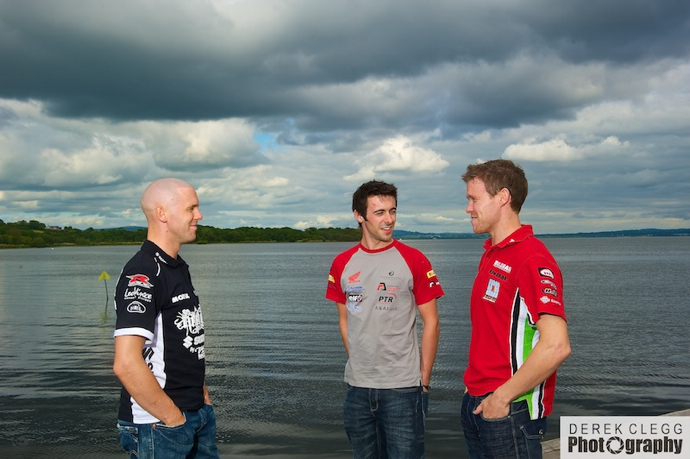 World and British Superbike stars Eugene, Michael and John Laverty will take a break from the professional race scene and guest lap at the Relentless International North West 200 on May 21st as organisers Coleraine & District Motor Club's aim to create a bumper Race Day programme for fans and visitors to the North Coast region. This is a first for both the Laverty brothers and the NW200 and the trio from Toomebridge will ride in unison round the 8.9 mile circuit on board BMW and Yamaha machines in between races.
"We're delighted that the boys took up our offer to undertake a parade lap
and add
a little cutting edge glamour to the North West this year. Their father Mickey Laverty competed in the NW200 during the 1970s and it's wonderful that Mickey and his wife Sheelagh will be on hand to watch Eugene, John and Michael demonstrate their skills and technical ability round our circuit." said Mervyn Whyte MBE, technical director.
Eugene recently scored an amazing double 1st victory on the Yamaha YZF-R1 at the World Superbike race at Monza gaining him 85 points in the championship standings and fifth place overall. Following recent testing in Aragon, Spain, Eugene will be heading off to Salt Lake City, USA for the next round at Miller Motorsports Park on 30th May.
Eugene's older brother Michael and John are currently going head to head in the MCE Insurance British Superbikes Championship with John recovering from a finger injury but was able to compete at Croft for his team, Buildbase BMW Motorrad taking his first points of the season with 13th position. Riding this year for the Swan Yamaha team, oldest sibling Michael is currently lying 11th in the MCE BSB standings with 35 points following a difficult week-end at Croft.
Whilst the Laverty brothers represent high tech modern day machinery and racing techniques, event organisers are also harking back to the golden age of Irish road racing with parade laps by the Dromara Destroyers Ray McCullough, Brian Reid and Trevor Steele whose fame rivalled the Armoy Armada during the 1960's and 70's. Also participating in special VIP laps courtesy of the Vintage Japanese Motorcycle Club (Northern Counties section) are former world champions 'Fast' Freddie Spencer, Ralph Bryans and Jim Redman.
Jim Redman MBE clinched 6 world championships in just four years (1962 to 1965) and became the first rider to win three Grand Prix's during one day. Jim also had a hat-trick of doubles at the I.O.M TT clinching both the 250cc and the 350cc races in 1963, 64 and 1965. Ireland's most successful GP rider and only Grand Prix world champion Ralph Bryans, originally from Belfast but now living in Scotland, made his NW200 debut in 1962 and chalked up three wins, a second and a third at the North West between 1962 and 1970. Bryans was a member of the famous Works Honda Team alongside Jim Redman, Luigi Tavari and Mike Hailwood who between them took all five Manufacturer's world titles in 1966.
Nicknamed 'Fast Freddie' Spencer gave Honda their first GP championship title on a 500cc two stroke machine becoming the youngest rider to with this class. Regarded as one of the greatest motorcycle competitors of the early 1980's he was installed as an FIM Grand Prix Legend in 2001. During an illustrious Grand Prix career Spence chalked up 27 wins and a total of 39 podium positions.
Star legends Spencer, Bryans and Redman will be on hand in the Relentless North West 200 Paddock area on Friday May 20th during the afternoon as well as on Race Day to give fans and visitors the chance to get autographs and meet the stars. The V.J.M.C. will also host a special Chat Show in the evening of 20th May in the Magherabuoy House Hotel when the legends will look back on their racing careers and a range of Yamaha and Honda bikes will be on display similar to those used by Bryans and Redman in the 1960s.
Dromara Destroyer member Ray McCullough was renowned for his neat yet very quick style and technique and during three decades won trophies at every Irish circuit. Apart from occasional outings at Oulton Park in Cheshire and his annual trip to the Isle of Man Southern 100 each July Ray McCullough restricted his racing to Ireland. Backed by Mick
Mooney's Irish Racing Motorcycles for most of his career McCullough mostly competed on Yamaha machinery. Ray picked up 7 podium places at the North West 200 during the 60's
and 70's including three firsts, one second and three third positions.
Fellow 'Destroyer' Brian Reid first raced in 1976 at St Angelo, Enniskillen and competed in Ireland and throughout the world throughout the 1970s, 80s and early 90's. A former double world champion in the mid-80's Brian won a North West 600cc trophy in 1989 and also has 5 TT and 9 Ulster GP wins under his belt. Reid also chalked up 68 Irish National Road Race wins from 1979 until 1989, 9 Irish Short Circuit Championship firsts and
4 Isle of Man National Road Race trophy wins.
Completing the Dromara trio is Trevor Steele picked up top trophies at the Mid-Antrim in the 250cc and 350cc classes, at the Ulster Grand Prix (350cc) and a 350cc win at the Southern 100.
For up to date details on all VIP parade laps and other Relentless NW200 information visit www.northwest200.org.